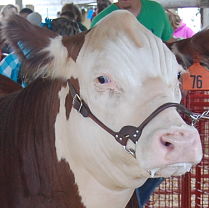 The 2016 Kenosha County Beef Show took place at the fairgrounds in Wilmot on Friday.
Here are results of the judging from Junior Fair and Open Class:
Grand champion steer — Chase Warren.
Reserve grand champion steer — Emily Springer.
Supreme champion heifer — Andrea Edquist.
Champion rate of gain — Ryan Herda.
Reserve champion rate of gain — Joey Rossi.
Showmanship champion — Kyle Lois.
Senior showmanship champion — Kyle Lois.
Intermediate showmanship champion — Joey Ellerbrock.
Junior showmanship champion — Travis Harpster.
Breed Champions
Angus — Joey Rossi.
Hereford — Jacob Lois.
Simmental — Emily Springer.
Main-Anjou — Becky Springer.
English crossbred — Ryan Herda.
Exotic crossbred — Chase Warren.
Dairy Steer — Lukas Rossi.
Any other breed — Joey McManus