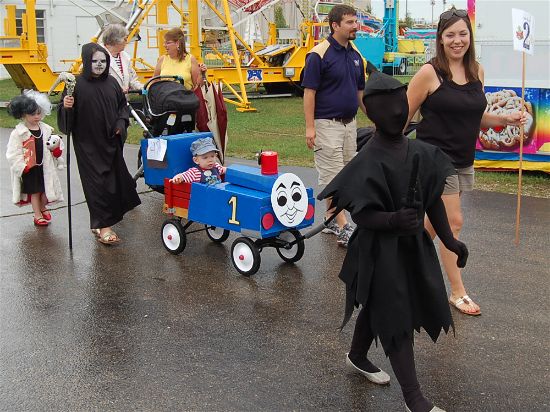 Rain did not dampen the cute factor of the 2016 Kenosha County Fair children's parade Friday morning.
Steady rain had hit the fairgrounds in Wilmot for about two hours before the parade was scheduled to start, causing organizers to discuss alternate ways to hold the event, such as an all inside the Commercial Building path.
But the rain stopped a little before the scheduled start and held off during the parade itself so the original outside route was used after all.
In the children's parade, costumed youngsters compete in 20-plus categories with costume and props relating to their category. They are observed by a panel of judges and then parade around the fairgrounds. This year the parade was led by a member of the Fair Police, Kenosha County Sheriff' Department D.A.R.E. Officer Deputy Ray Rowe and the Fair Court. At the end, there's a goodie bag for everyone that participated and a half-pint of white or chocolate milk.
Here are some more photos of the event: