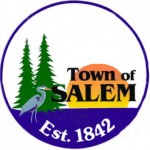 The Salem Town Board on Monday agreed to table for 30 days a decision on the role of the town's public safety department in traffic law enforcement.
During that time, the town will seek to talk to Sheriff David Beth about how his department could handle traffic and maybe even ordinance enforcement in the town for the short-term and when the merger with Silver Lake is complete.
The motion to table was made by Supervisor Ted Kmiec. It passed unanimously.
"It's a very professional department," Kmiec, an attorney who practices in Kensoha County, said of the sheriff's department.
The issue of traffic patrol by the town's public safety officers came to a head recently when town board members learned the town had applied and received a traffic enforcement grant from the state. Some members of the board objected to the town handling increased traffic patrol and the board last week pulled out of the program and voted to return about $25,000 in grant funding.
During discussion of the agenda item, Supervisor Dennis Faber said he did not object to talking with the sheriff, but he felt Salem public safety officers did fulfill a useful traffic watchdog role in places like around local schools. He also pointed out that safety officers, during the time the traffic enforcement grant was in effect, had stopped drivers topping 100 mph on Highway 50.
Kmiec asked Beth if deputies could provide similar service and Beth replied yes they could.
If the planned merger with Silver Lake happens as expected early next year, the resulting 14,000-plus population village would be required to have dedicated police protection. Town administrator Patrick Casey said the assumption is that will be accomplished by re-negotiating Silver Lakes current policing contract with KCSD to cover the larger and more populous village.
Beth also said that the town or the new village could pass a resolution that would enable deputies to enforce municipal ordinances, which is not the case in Salem right now. Ordinance enforcement is currently handled by town public safety officers.
What role if any there would be for the public safety officers now employed by the town once a new sheriff's agreement was in place was not discussed Monday.