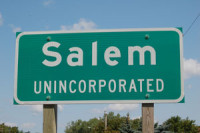 The Salem Town Board in a split vote at Monday's regular board meeting withdrew from a state grant program targeting the enforcement of speed and seat belt laws.
Supervisors Ted Kmiec, Dan Campion and Mike Culat voted to withdraw; Chairman Diann Tesar and Supervisor Dennis Faber voted against withdrawing.
The WISE grant raised questions from the board in June, when they said they were not aware the town was participating until they read about it in local media. Some board members also were concerned that the program had increased traffic stops — especially along Highway 50 — by the town's public safety officers.
Public Safety Chief David Shortess said the goal of the grant program is to enforce speed laws and seat belt laws. The town was awarded $30,000, with half to go to speed law enforcement and half to seat belt enforcement. It requires a contact — not necessary a citation — every 45 minutes during patrol covered by the grant program. The town will now return about $25,000 to the state to be used by other municipalities in the program.
Kmiec made the motion to withdraw from the grant. His motion also included a provision that participation in future grants require board approval.
"I don't think we belong in this grant," Kmiec said. "I don't think we ever did."
Shortess presented stats at the meeting that showed a steady increase in injury crashes in the town from 2011 to 2014. Crashes dipped in 2015 to 76 from 95 the year before after Salem Public Safety increased hours of traffic patrol.
"I am sure it has had some sort of effect," Kmiec said.
Faber said he agreed with Kmiec's provision for the board approving future grants, but he would have liked to have seen Shortess present a plan for spending the remaining money in this year's WISE grant.
Tesar said the board would discuss the topic of how involved the town should be in traffic patrol at the committee of the whole meeting Monday.