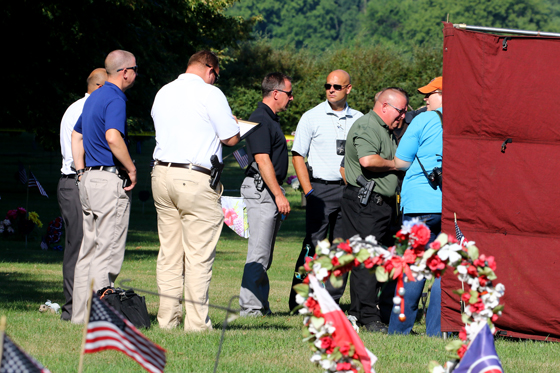 Today, the Kenosha Sheriff's Department exhumed their first grave for criminal investigation. It took almost four hours to do it.  "It's something that the department has never done, according to Sgt. Eric Klinkhammer.  It not something that's done very often".  They had to go through the maps of the cemetery, and the location of the headstone. It was located over, a bit.
The grave is of a newborn baby boy, found dead November 9, 1989, under the Des Plaines River Bridge on CTH N in the Town of Paris. After a thorough investigation, it was classified a homicide. He was buried in St. John's Cemetery, 9900 336th Ave. in Randall.
The remains will first go the medical examiner's office to be examined by Dr. Rick Snow, a a forensic anthropologist working with the National Center for Missing and Exploited Children (NCMEC).  The remains will then go to the University of North Texas for DNA analysis and further examination. The lab specializes in sophisticated DNA analysis.
The initial tip that led to exhumation came in about a year, ago.  It came into the cold cases on the Kenosha Sheriff's Department website.  The detectives periodically review the cold cases.
The next step is to wait for the results of the testing to come back. That could take weeks or months.  They believe the person they are looking for is regional.
If anyone has information about this case, contact Detective Paulsen at 262-605-5140 or citizens can remain anonymous by calling the Crime Stoppers Tip Line at (800) 807-8477 or (262) 656-7333.