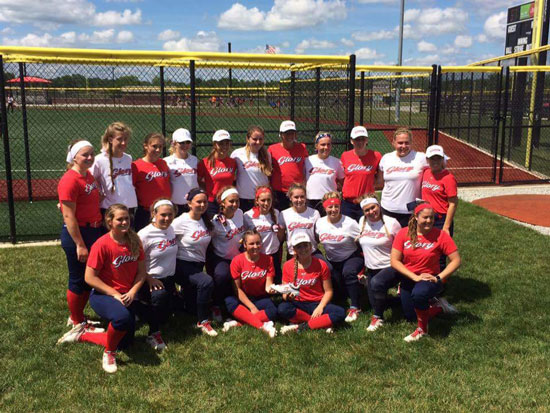 Note: Team Glory Midwest of a westofthei.com sponsor. This is a paid announcement. — DH
As the second year of Team Glory Midwest's season is winding down, the organization couldn't be happier about how their 3rd season is looking. The vision of Team Glory is different than your "typical" travel softball team. Their team mantra is "Purpose. Driven. Softball".  The founder- and President, Suzy Willemssen, is one of the most respected people in all of fastpitch softball. She has cultivated relationships with colleges around the nation as well as having working relationships with some of the titans of the game like- Sue Enquist. Our sister teams in Virginia (Virginia Glory) compete in, and have won, some of the most prestigious tournaments in the nation. In four short years, the Virginia Premier teams has become a nationally ranked powerhouse.  They are providing the template, recipe and proof, that Purpose.Driven.Softball can not only succeed, but dominate.
Jose Vazquez, Team Glory Midwest Director, latched onto this philosophy immediately. He has been in the softball community in Kenosha County and surrounding areas for the last 12years. He has seen firsthand, how the softball community has turned over the years.  It went from kids playing softball for growth and teamwork, to almost a cut throat community, which has no loyalty to hard work, and will over use a player- eventually either burning them out or injuring them- just for a win.
Based on the border of Wisconsin / IL , Team Glory Midwest competes in (PFG,ASA)  tournaments as well as select showcases. " We compete to qualify for the nation's most heavily recruited national tournaments." 18U Co Head Coach Frank Dodson reports,  "The Glory program is for dedicated and committed student-athletes who have a great passion and respect for the game, who intend to play at the collegiate level, and who are fiercely competitive. More importantly, we seek players and families who truly embrace our team-first "Glory Us" philosophy — who believe in being part of something bigger than themselves and want to participate in creating a powerful environment where players make each other better by giving each other their best." Dodson works with all the teams (10u-18u) as their hitting guide, keeping consistency throughout the program.
Purpose. Driven. Softball. The Team Glory philosophy is not just a mantra- it is lived each day by the coaches, players and the parents. They are involved in a lot of volunteer work in our community.  The "Purpose" is creating confident women, who know what it means to support each other, and give back to the community. "Driven"-, they are teaching the girls you can do anything if you work hard- it's not just talent that's rewarded. They had a girl that came to tryouts and had been passed up by 3 other organizations.  She was soaked in sweat after the tryout, and still had a smile on her face.  She is now the starting shortstop, and has one of the top batting averages. "Softball"- fundamentals are key.  The coaches work together constantly, sharing their ideas and plans with each other- they learn from each other to acquire the skills to form these girls into amazing, solid players. The Virginia chapter is also on board with this, and they frequently are in on coaches conference calls to bounce ideas that are working for them.
Glory also supports players being involved in other activities.  Yes, time has to be put into softball- but a well-rounded athlete has other interests as well.  They have girls who are active in competitive skating, gymnastics, basketball, volleyball etc. Not to mention the academic side of this organization.  Glory offers ACT preparation seminars to it's players. They are extremely proud that their student athlete average ACT score for the first two years is an outstanding 27, and the average GPA is 3.7. They recognize the importance of academics in the college selection process. Glory offers recruitment tools to help the athletes/parents find the right fit academically, financially, socially and athletically.
The coaching staff has been handpicked by Vazquez.  He interviewed a lot of coaches to make sure they were on board with The Glory ideals. The 16 and 18u coaching staffs have well over 50 years combined in playing/coaching the game of fastpitch softball.  Glory has brought in mental toughness coaches like Tori Nyburg. Glory offers seminars from some of the most well respected, subject matter, experts in their field, such as Gerry Glasco- among others. Glory has catching coaches, and has adopted "Tincher Pitching" as it's primary pitching style. "We want to support these girls." Vazquez said. "They are coming to us beaten down, and over worked. We want to show them that we value them, and that we can re-start that fire in them that brought them to softball in the first place."
Now finishing up their second season- they have teams playing in national tournaments, and girls getting D1, D2 college offers. "This is more than I could have asked for", Vazquez admits. "I had high hopes obviously- but these girls exceed my expectations every day with their growth both on and off the field." Vazquez says personally "It's taken my daughter 18 years to feel safe, supported and valued on a team, and she's played on some competitive teams."  It makes you really look at what "competitive team" means. "Top" should not equal "wins at any cost". Winning is producing a top athlete who becomes a strong, confident player in life.
For tryout information for Team Glory Midwest, go to their website: teamgloryfastpitch. org