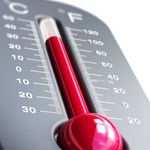 The National Weather Service latest local forecast calls for a weekend with temperatures a bit cooler than we've been having lately.
The high temperature Friday an Saturday is expected to hit just 77. Sunday will be 80 and Monday 83.
Skies are gloomy today, but there's just a 30 percent chance of rain Friday and tonight and a 20 percent chance of a thunderstorm Saturday.
By Thursday, temps are expected to be flirting with 90 again.