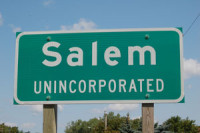 Salem is considering joining a group of municipalities and other entities considering countywide retail marketing planning.
Town administrator Patrick Casey recently accepted an invitation to attend a meeting of the Kenosha County Retail Marketing Planning Project, which originated with a downtown Kenosha business organization.
At last Monday's special board meeting, Casey gave the board some information about the group and started a discussion about whether Salem should participate.
The group plans to hire a consultant for a study to look at the county as a whole and come up with a strategy for attracting new retailers, Casey explained. The groups/communities involved would share the cost of the study. Casey said the cost share is not known yet, but that Salem's share would not exceed $5,000.
The study could "give us the road map we want" to attract retail, Casey said.
Casey pointed out that the under construction town commercial park development along Highway C started out with a similar study by the Kenosha Area Business Alliance on locations for smaller industrial companies not along I-94.
"I think it's a wise idea to start thinking about this," Casey said.
Board member reaction was mixed.
Supervisor Dennis Faber said retailers have their own extensive research and criteria on which they base their location decisions. He worked in retail at a high level before retiring.
"I would never spend a nickel (to attract a retailer) until someone made a commitment," Faber said.
Supervisor Ted Kmiec said he would want to know more about the financial commitment. Supervisor Dan Campion also had concerns about money, but said he would like the town to stay in touch with the process until at least the cost of participating is known.
"If we say no, that's too strong of a message," Campion said.
Casey suggested bringing a representative of the group to a future meeting to explain the mission and answer questions.