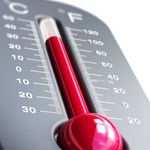 The National Weather Service has issued a heat advisory for 18 Wisconsin counties including Kenosha County.
The advisory is in effect until 7 p.m. Sunday.
The high temperature Saturday is expected to reach 89 with a heat index of 99. The high Sunday could reach 92, with a heat index of 102.
Along with the continued heat, there's a 60 percent chance of a thunderstorm after 3 p.m. Saturday and Saturday night.
UPDATE 2:58 p.m. — Radar shows storms heading straight west toward Western Kenosha County. Here's more from NWS: