The National Weather Service has issued a severe thunderstorm warning for an area of Wisconsin that specifically includes Western Kenosha County.
The warning is in effect until 7:30 p.m.
The warning box includes almost all of Kenosha County west of I-94.
The NWS reports that at 6:36 p.m. a storm was over Elkhorn with 60 mph winds.
UPDATE 6:59 p.m. — View below looking north from Paddock Lake: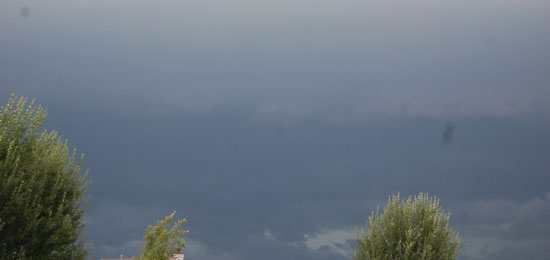 Another view from Silver Lake:
UPDATE 7:07 p.m. — Storm moving through Paddock Lake. Dark skies, wind, but virtually no rain.
UPDATE 7:26 p.m. — Fairly heavy rain starting in Paddock Lake. (Or maybe it's just regular rain. It's been so long my perspective may be off.)
UPDATE 7:30 p.m. — Severe thunderstorm warning allowed to expire.