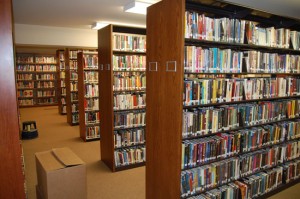 Despite a looming deadline for holding back state funding, there still is not a consensus opinion on how to move forward with the make-up of the Community Library.
The issue comes down to differing opinions of Paddock Lake and Salem officials. Officials from the other three Community Library member municipalities — Twin Lakes, Randall and Silver Lake — appear to be ready to agree with whichever view can bring the issue to a close.
The issue of how to apportion representation on the joint library's board has been being kicked around for over a year. There is now urgency to wrap up the issue before a state imposed deadline for possible withholding of state funding.
Currently, each member municipality has two representatives on the library board. That is in conflict with state statutes, which say joint library boards should have membership that reflects the relative populations of its members.
While this has been essentially ignored for years, in 2015 the possibility that the state might withhold funding until the representation is corrected arose.
Salem, the municipality with the largest population, offered a side agreement where it would appoint some of its representatives to other municipalities to bring the representation in effect back to two a piece. Salem town administrator Patrick Casey said the town received a verbal go ahead from the state Department of Public Instruction that the side agreement would be OK.
Paddock Lake officials questioned the legality of that move and ultimately received a written opinion from a DPI official saying the side agreement would not be valid. They put forward a proposal for a 10-member board apportioned by municipal population and keeping one rotating seat from the two high school districts.
Twin Lakes, Randall and Silver Lake were willing to approve that arrangement, but Salem balked, saying they did not see the need for the school board member and proposed a nine-member board.
Paddock Lake questioned DPI about that arrangement and was told via email that the school representative was required.
At a committee of the whole meeting last week, Paddock Lake officials portrayed Salem as a roadblock to resolving the issue and maybe imperiling funding.
"If Salem could be so good as to approve it (the 10-member board), we could move on," Paddock Lake village administrator Tim Popanda said.
Salem took up the matter again at a special Town Board meeting Monday. Casey acknowledged the need for the school representative, but suggested that it could still be met within the context of the nine-member board. Salem board members favor the nine-member board seeing it as less susceptible to ending in deadlocks.
One of the municipalities could give up its seat for the school representative, Casey said. That might even be Salem on a consistent basis, since that municipality will multiple seats.
Casey said the town has sought an opinion from DPI about whether that arrangement would be OK.
Casey expressed frustration with DPI's role in the process.
"We get conflicting information and conflicting opinions from DPI," Casey said. "It's like the last person that talked to DPI gets their way … We're not trying to be obstructionist … we're just trying to not have to keep rewriting this."
Salem is hoping to get clarification from the DPI soon so it can decide on a final course of action before the funding is threatened.
"It's the municipalities that are the bad guys," Paddock Lake Trustee Kathy Christenson said last week. "It's the municipalities that can't come to agreement … you can't just take the position to wait and see what DPI does. The library and the patrons of the library are going to suffer."