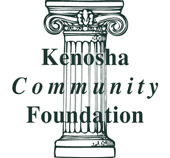 The Kenosha Community Foundation awarded 29 grants totaling $89,610 to non-profit organizations and projects serving Kenosha County residents.
The Foundation awarded grants to 19 different non-profit groups. Among these, the Foundation awarded three grants to the Sharing Center in Trevor:
From the Foundation's pool of Unrestricted funds to support shelter supervision and case management activities.
From the Outboard Marine Corporation (OMC) Legacy Fund (which targets youth programs), for its program that provides school supplies and new shoes to Westosha area families in need.
From the Women's Fund (which focuses on programs for women and children) for Children's Nutrition Programming that includes healthy mid-morning meals.
Note that three other non-profit organizations – the Kenosha Achievement Center, the Kenosha Literacy Council, and the Shalom Center of the Interfaith Network – also received three grant awards from the Foundation.
In addition to the Sharing Center, two other non-profit programs that serve the Westosha received grants:
United Way of Kenosha County for its Volunteer Income Tax Assistance (VITA) program, which provides free tax preparation and counseling in Salem, Twin Lakes and Kenosha (from the Foundation's Unrestricted funds).
Kenosha Common Markets, Inc. to help match funds SNAP/EBT benefits of families that shop at the WestoshaMarket, this year moving to Wilmot, and HarborMarket in Kenosha (from the Foundation's Women's Fund).
The 29 grants are derived from five endowment funds that the Community Foundation manages. A full
list of grants awarded is posted online at the Community Foundation's website (kenoshafoundation.org )
and on the Foundation's Facebook page.
In announcing this year's awards, Executive Director Robert Schneider stated that the Community Foundation will adjust the timeline for some of its 2017 grant making.
"We plan to award grants from four of our field of interest endowment funds in January 2017" said Schneider. "to accomplish this, in August (2016), we will issue a call for proposals for 2017 grants from our LaFave Family Fund, OMC Legacy Fund, Women's Fund and Arts Fund." Applications for grants from these four funds will be due at the end of September (2016). The Foundation plans to announce grant awards in January 2017.
"We will continue to award grants from our pool of unrestricted funds in June." (The Foundation will issue a call for proposals for grants from the unrestricted funds in December 2016.) "We decided to split our grant making schedule in part because many non-profit groups, especially those whose focus is in the arts and culture, have requested funding at the beginning of the year to plan and execute their projects," said Schneider. "Also, due to the increasing complexity and number of grant applications the Foundation receives, this change will ease the process for our committees of volunteers who need to review and consider each proposal."
The Kenosha Community Foundation, organized in 1926 as a tax-exempt public charity, actively manages permanent endowments established by individuals, families and business organizations. The Community Foundation manages over $7.25 million in endowment funds and each year awards nearly $300,000 in grants, scholarships and gifts to Kenosha area non-profit organizations and students.