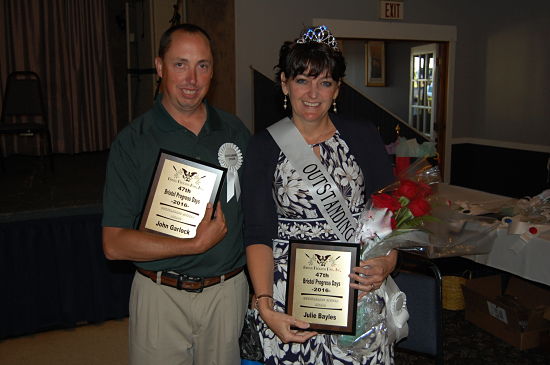 Julies Bayles and John Garlock were named the 2016 female and male Bristol Outstanding Citizens at the Bristol Progress Days banquet Friday night at the Parkway Chateau.
The awards are an annual tradition at the banquet, which kicks off the three-day community festival.
Bayles, the mother of 7, was nominated for her work with school track meets, band, the Dream Playground Project, and operating the Christian Missionary Store, proceeds from which benefit people in need.
"Her infectious enthusiasm to serve others in our community and beyond, her love of her family and her connection with her faith, truly make her worthy of being this year's outstanding citizen" her introduction at the banquet said.
Garlock was nominated for his work with Bristol Recreation Softball and the Parks and Recreation Board.
"Starting kids off at a young age, he was able to teach them not only how to play softball, but also how to have a passion for the sport, how to take directions from those in charge, and pointing out that work hard always pays off in the end," his introduction at the banquet said.