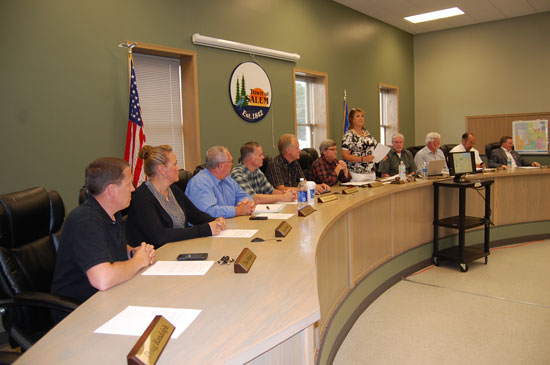 No speaker at Wednesday night's joint public hearing on a plan to merge Salem and Silver Lake into one municipality voiced opposition  to the plan.
The hearing was held, as required by state statute, to gather public opinion on the plan.
About 75 audience members were in attendance along with the Salem Town Board, the Silver Lake Village Board and some Salem department heads. Only 12 people testified, with voice supporting the plan, six asking questions but not expressing and opinion and one making a comment that the matter ought to be subject to a referendum, but did not say whether they supported the plan or opposed it.
Three of the audience members supporting the plan were from Silver Lake. The meeting was held at Salem Town Hall, but was open to anyone to attend.
All board members from both municipalities were in attendance (except Silver Lake Trustee Dough Randolph). They also all expressed support for the plan in comments after the public had a chance to speak.
Salem town Chairman Diann Tesar started out the meeting with some information about the plan, pointing out that the advantages to Salem included border stability and a lower cost to incorporate as a village than other methods.
Silver Lake village President Bruce Nopenz also addressed the start of the hearing and actually addressed a few Silver Lake-centric issues that had not been addressed at the previous Salem public informational meetings.
A key benefit to the residents of Silver lake will be gaining professional management of the day to day functions of the village after the merger, Nopenz said. Not having an administrator " makes it very hard to take care of what comes up day to day," he said.
Salem also has a bond rating, meaning when it has to borrow money it can do so more advantageously, Nopenz said.
Nopenz also said current plans call for:
Silver Lake Village Hall to serve as a satellite office for the new combined village, with at least some regular hours.
Street lights will remain in the village.
Street names won't change, but emergency address name signs may be added.
And once again the issue of the name of the new village came up. The draft agreement calls for the new village to be named Salem. But the issue does not seem to be settled.
"There's going to be a little negotiation there," Tesar said.
Here's some video of the members of the public who expressed opinions on the merger plan:
Here's video of the public officials' comments about the merger plan:
Here is a link to Salem's page of information about the plan.