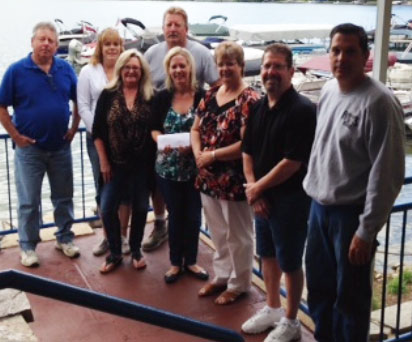 Westosha Head Start recently invited State Rep. Samantha Kerkman to share in the experience of the Kenosha County Tavern League donating funds to aid local children and families in the Kenosha County area.
With the donation of $1,500, Head Start will be able to assess children and family needs early, and be able to provide services right away.
Westosha Head Start, located in Wilmot, services eligible children ages 3 through 5 as well as their families in the Western Kenosha County area. The program provides a preschool education that focuses on social, cognitive and hands-on learning, ensuring its children will have all the necessary abilities required for their transition into Kindergarten.
"Our programming concentrates on the whole child" said Julie Ouimet, Director of Westosha Head Start.
The Head Start program goes beyond the classroom, offering medical, dental, and mental health services, as well as family-oriented events. Though federally financed, the funds received are often not enough for the organization. The Kenosha County Tavern League's continued generosity helps to make Head Start's programming goals more attainable.
Last year, with multiple donations from the League, Head Start was able to provide backpacks, shoes, and clothing to the children, and supplies for the teachers to start off the year. They were able to enhance their playground by providing funds to build a new shelter and sandbox during an eagle project by Troop 328, and schedule two educational field trips. They were able to assist families with new snow boots and snow pants during the cold winter, and purchase two new learning tablets for the classrooms. During the family fun nights, they were able to provide turkey and gravy in November, and a magician for their Community Awareness event in March.
"We were able to do so much this past year with the families, but this year may look a little different," said Ann Beam, Family Advocate of Westosha Head Star. "We are very conscientious on how we spend our donated funds. We make sure they are allocated for educational purposes and resource needs. Yet, with the decrease of available dental doctors and clinics in the Kenosha area, dental needs are becoming an increasing issue,"
The donated money comes from the various fundraisers the Kenosha County Tavern League holds. The League's most recent fundraiser is "Cash Raffle for Safe ride", ending Oct. 20. The League runs the Safe Ride initiative, a free service to help cut down on intoxicated driving.
"We consistently donate to various benefits in our area and want to create lasting partnerships that we can give to on a regular basis," said Jennifer Collison, president of the Kenosha County Tavern League. "Our community is important to us, and giving what we can promotes that relationship. This will be the second year we have donated to Westosha Head Start. We are always excited to hear the improvements and differences we have made."
This donation will be matched by the Tavern League of Wisconsin Joint Districts 1 & 9 Foundation, and will also be matched by the Wisconsin Tavern League Foundation.
For more information on the "Cash Raffle for Safe Ride", or other events coming up, please contact Local Folks at 262 539-3200.
Families interested in more information or filling out an application for the Westosha Head Start program are welcome to contact Julie Ouimet at 262 862-6168.