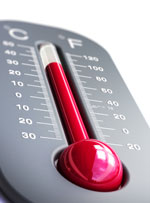 Temperatures are heading for a bit of a dip over the remainder of this week, says the latest local National Weather Service forecast.
While high temperatures have been flirting with 90 of late, they will be firmly in the 70s starting Tuesday, where the high is expected to top out at 71. Highs the rest of the week are expected to be 77 on Wednesday, 80 on Thursday (OK, one exception, but just barely), 74 on Friday, 77 on Saturday and 79 on Sunday.
Lows should be in the 50s for that whole stretch.
The most significant chance of rain is a 50 percent chance of a thunderstorm Thursday night.
Well, at least you can give that air conditioner a rest.