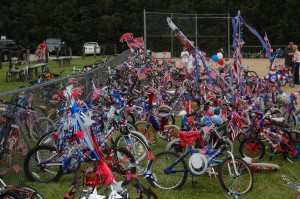 Note: The village of Paddock Lake is advertising this event with westofthei.com. This is a paid announcement. — DH
The annual Paddock Lake bike parade will take place July 2.
Residents of all ages are encouraged to participate with a bike decorated for the holiday. Parade line-up will take place at 9:30 a.m. at McAlonan Park, 248th Avenue between 72nd and 73rd Streets. The parade will start at 10 a.m. The route will proceed north on 248th Avenue to 61st Street, then east to 236th Avenue, then south to Village Hall.
This year's prizes for decorated best decorated bikes will be $325 for first, $325 for second and $325 for third prize and $25 for best costume. Decorated bike prizes are for participants younger than 18. Costume contest is open to all ages. Prize money was donated by Salem Township Rescue Assoc., c/o Tom and Pat Flowers.
After the parade, there will be hot dogs, chips, lemonade and prizes for parade participants.