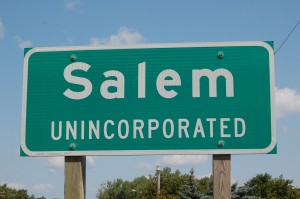 Salem on Tuesday hosted its second informational forum regarding the proposed merger with Silver Lake at Town Hall.
This audience, at about 35 people was a little smaller than the audience for a similar forum last week.
Those in attendance Tuesday heard a presentation on the process and were able to ask questions and make statements, as was the process last week as well. Michael Ullstrup, who served as chairman of the Salem citizens committee that studied incorporation, led the presentation.
A process of creating a cooperative plan and boundary agreement that would merge the two municipalities become public in May. If the process follows the expected timeline, the two municipalities will become one village as of Feb. 14, 2017.
Two of the more significant changes in program from last week were:
There was more discussion about how the areas of Salem designated as Paddock Lake growth area will move into Paddock Lake eventually. Salem administrator Patrick Casey said town officials had held considerable discussion with state Department of Administration officials in recent days to confirm that the growth areas will be included in the new combined village, but then move to Paddock Lake in 2026, when a previous boundary agreement between Salem and Paddock Lake calls for that to happen. "They all agree that will happen," Casey said. There are plans to make the section in the draft agreement governing the merger clearer in this regard, Casey said.
Tax impact numbers that were mistakenly presented at the last forum were corrected.  Ullstrup presented calculations, based on 2016 values and 2016 budgets from both municipalities, that showed that to support the same level of spending that both municipalities now maintain Salem's mill rate would increase to $3.77/$1,000 of assessed value. The current mill rate is $3.47. That would equal an increase of $60 on a home valued at $200,000. A decrease in the levy of about 8 percent could mean no increase in rate in this model, Ullstrup said. Ullstrup also emphasized that his calculations made no effort to analyze where cuts could be made or account for differences in how garbage collection is charged.
All Salem Town Board members were in attendance. Two Silver Lakes trustees also were in attendance.
The next step in the process is a joint public hearing on the cooperative boundary plan, scheduled for July 6.
Salem recently put together a page on its website of information relating to the merger that includes links to the draft of the plan, frequently asked questions and other information. You can access that here.