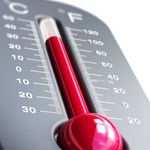 If you still have some garden or outside related chores to get finished (I know I do) then Tuesday might be your best opportunity for a while.
The latest local National Weather Service forecast calls for a nice Tuesday — 81 degrees for a high and sunny.
A 20 percent chance of thunderstorms creeps into the forecast for Tuesday night and builds from there to 60 percent Wednesday and 70 percent Wednesday night. One to 1.5 inches of rain is possible through that period. High temperatures also are expected to dip into the upper 70s for Wednesday and Thursday.
For the balance of the week, high temperatures should reach back into the low 80s. The next most likely chance for rain will be a 50 percent chance of rain Saturday.