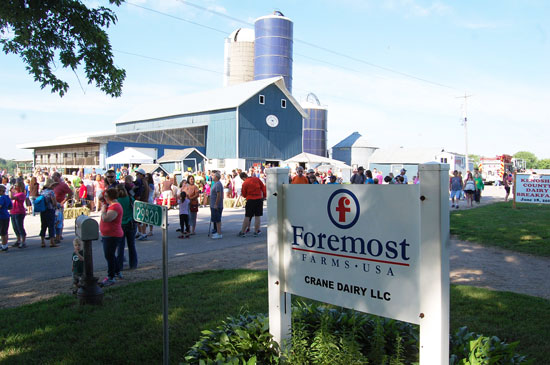 People were able to get a little taste of the atmosphere of a dairy farm at the 2016 Kenosha County Dairy breakfast Saturday morning.
The annual event was hosted this year by Crane Dairy in Brighton.
Since Highway JB bisects the Crane farmstead traffic was blocked on the highway form both directs, allowing those attending the breakfast easy access to either side of the road. Parking in a farm field, with shuttle service available to the breakfast via tractor pulled wagon. Western Kenosha County Transit also providing special runs to the breakfast.
Attendees could explore displays of farm equipment old and new, watch a video demonstration of milking, get a good look at the Crane herd and of course eat. Breakfast consisted of eggs with ham, pancakes, bread, muffins, milk (of course) and strawberry-topped ice cream. At 8 a.m. it was announced that 1,500 breakfasts had been served (since 6:30 a.m.) and the line of more people to be served was stretching
Hang around the ice cream area for a while and you would have heard "I never had ice cream for breakfast before" uttered more than once.
There were kid oriented activities for the younger set.
Here are some more photos: