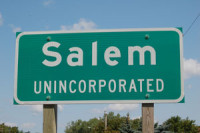 Like a homeowner trying to loosen up the household budget a little, Salem has refinanced the bond for the highway department/fire station building in Trevor.
Due to the size of the project, the savings is likely bigger than one might realize from any kitchen table calculation on the average Western Kenosha County mortgage. The town will save over $1.5 million, without extending the term of the borrowing.
Here's an explanation from town administrator Patrick Casey about how it all worked out:
In 2010 the Town issued $10.6 million in general obligation bonds for the development and construction of the Highway/Fire facility.  At that time the economic stimulus plan in place had a feature call build America Bonds. This program was offered to communities who had shovel ready projects.  Build America offered a 35 % rebate on the yearly principal and interest rate, approximately $180,000 annually.  The Bonds had a callable feature to them, however the first date to call the bonds was in 2020. The Town included in the original bond sale a clause that stated if the rebate of 35% was ever diminished that the bonds would automatically be callable.  When the Congress passed the Federal Sequestration program it cut the support of the Build America bonds and the rebate fell below the 35% level.  The Town waited for two things before deciding to refinance.  The first was lower interest rates.  The second was for the outstanding principle on the bond to fall below 10 million dollars.  The reason for the second has to do with the financing.  A bond below 10 million dollars is considered bank qualified.  Once bank qualified the bond becomes more attractive to investors and the interest rate drops even further. … The results of the (May 25) refunding was a bid from Piper Jaffray & Co. for an interest rate of 1.8183%,  saving the Town of Salem and its taxpayers $1,156,718 over the remaining life of the bond (the bond matures in 2030). Note that the Town did not extend the life of the bond with this refinancing.