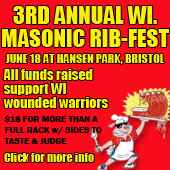 Note: Washburn Lodge is advertising this event with westofthei.com. This is a paid announcement. — DH
The Third Annual Masonic Rib-Fest will take place June 18 from 1 to 5 p.m. at Hansen Park in Bristol.
This charity event raises money for Southern Wisconsin AA Wounded Warriors Chapter.
Taste all of the entries and then judge who you think makes the best ribs. Cost is only $18 for over a rack of ribs with sides to eat and judge.
The SWAA chapter raises money to help the veterans of Wisconsin and is not affiliated with any other wounded warrior project.