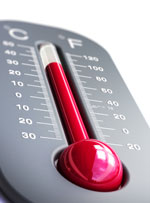 When you report on the weather, you have to decide when certain terms are justified.
What constitutes warm? What is blustery?
Hot is another one of those weather terms. What temperature justifies the word hot?
I say it is 90 or more. And therefore I feel completely justified in saying the National Weather Service forecast calls for a hot Friday and Saturday.
Friday's high temperature is expected to hit 91. Saturday, it will reach 90.
We also may need to get through some stormy weather first. Thursday night there is a 70 percent chance of a thunderstorm, most likely between 8 p.m. and 3 a.m. Storms may roll through again, most likely between 4 and 7 a.m.