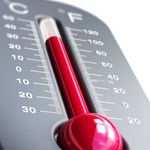 A two day or so cool down is in the latest National Weather Service forecast for our area.
We have gotten pretty used to high temps in the 80s or at least high 70s in the last week or so.
By that standard, the high temperature will feel a little cool Tuesday and Wednesday. Tuesday's high will be just 67 and Wednesday's just 71.
Temps begin to rise again Thursday and may be flirting with 90 on Saturday.