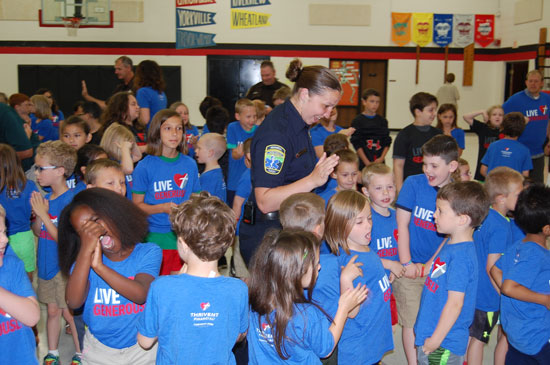 Bristol School kindergarten and third grade students showed their appreciation for firefighters, paramedics and law enforcement officers Thursday morning at the school.
The Community Helper Appreciation Day was organized by the kindergarten and third grade faculty. Those grades work together as buddies through the school year. The project received an assist from Thrivent Financial.
Representing Bristol Fire and Rescue were Chief John Niederer, Lt. Shaun Ballenger and firefighter/paramedic Karla Creuziger. Representing the Kenosha County Sheriff's Department were Sheriff David Beth, Deputy Raymond Rowe (known to school children throughout Western Kenosha County as their D.A.R.E  officer) and Deputy Keith Kirwan, whose is one of  the deputies currently assigned to patrol Bristol.
Students presented the community helpers with baskets of cards and goodies and plaques thanking them for their work keeping the community healthy and safe. The students also sang a special song for the sheriff and deputies and recited a poem for the firefighters. Here is video of the firefighter poem:
After the presentations in the west gym, everyone went to the cafeteria for treats, and a chance to talk up close to the firefighters, the sheriff and deputies.
Here are some more photos: