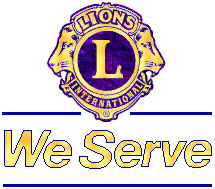 Note: Paddock Lake Area Lions Club is a westofthei.com sponsor. — DH
Looking for a way to get involved in your community? Consider the Paddock Lake Area Lions Club.
The Paddock Lake Area Lions commitment to the community is made possible because of the efforts of many individual and corporate donors, volunteers and partnerships with those in our area. The club is a non-profit organization meeting challenges by simply responding: WE SERVE.
In hospitals and senior centers, in areas battered by natural disaster, in schools and eyeglass recycling centers, Lions are doing community volunteer work, helping, leading, planning and supporting. WE SERVE by assisting those in need with the cost of eye exams, eyeglasses, school supplies, etc. The club's community projects include assisting Special Olympics with their fundraisers, supporting Lakeland Little League's equipment purchases and Westosha Community Center spring clean up. Because the club is local, it can serve the unique needs of the community we live in.
New club members are important and the club seeks individuals willing to volunteer their time and efforts to benefit the entire community. The Paddock Lake Area Lions Club meets the third Tuesday of each month, at 7:30 p.m. at the American Legion in Silver Lake, (or at another area restaurant).
If you have any questions or would like to get involved with Lions, please feel free to contact:
Cindy Taylor, Treasurer (262) 914-4241
Mike Taylor, President (262) 914-4242
Ken Burns, Vice President (262) 492-6737