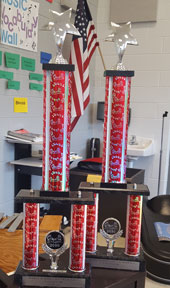 Last week, 86 students from Lakewood, Randall, Riverview, and Trevor-Wilmot schools took a trip to Minneapolis to compete in the Music in the Parks Festival.
The Red Band (7th & 8th grade) received a rating of Superior, the highest possible rating. The White Band (6th & 7th grade) received a rating of Excellent, which is the second highest possible rating.
The Red Band also received the Overall Concert Band Award which is awarded to the band at the competition that shows the best spirit, stage presence, team work, appearance, and overall sound. The local band was were competing against two high schools in this category.