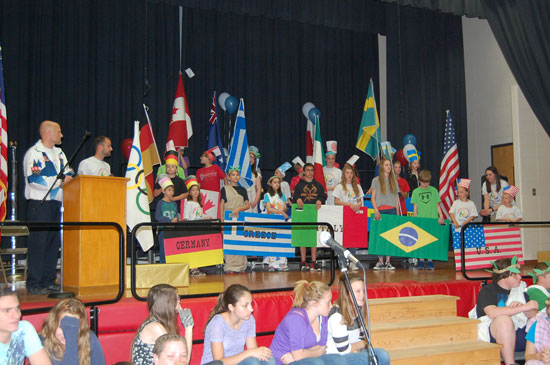 The ninth Randall School Olympics opened Tuesday with a ceremony at the school much like the real Olympics.
The Randall Olympics are being held to coincide with the 2016 Summer Games in Rio de Janeiro, Brazil.
The opening ceremony featured a parade of nations, with each grade representing a country, a torch lighting, the Olympic oath and other elements familiar to anyone who has watched the Olympics on TV. There were several musical performances by school band and choir groups. Thee also was a presentation about Brazil, the host of this summer's Olympic Games.
The Randall Olympics are organized by the Physical Education Department with help from the art and music departments and all academic teachers. The Parent/Teacher Committee purchases participation medals for all participants and parent volunteers will help run the events.
The athletic events will begin on Wednesday and continue through June 1 . Classes will compete as homerooms in the events, in hopes of earning a gold, silver or bronze certificate. Award presentations will follow the conclusion of competition at each grade level.
Physical education teacher Mike Perry concluded Tuesday's ceremony by saying he hoped for good weather, but if weather is inclement events will continue inside in modified form.
Here is video of some highlights of the opening ceremony:
Here are some more photos from the opening ceremony: