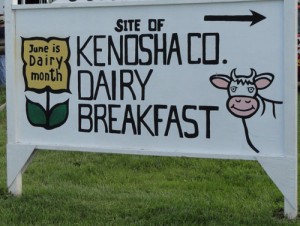 The 2016 Kenosha County Dairy Breakfast will take place on June 18 at Crane Dairy LLC, 29320 31st St., in Brighton.
This annual event includes: A big farm breakfast, milking demonstrations, a Wisconsin products tent, old-fashioned children's games and more. The event takes place from 6:30 to 10:30 a.m.
The breakfast will include scrambled eggs with ham and cheese, pancakes, fresh bread and butter, yogurt, muffin, milk, juice, and ice cream. There is no cost to tour the farm. The breakfast price is $6 adults, children 6 and under are free.
All parking (general, handicap, motorcycle and bicycle) will be at the farm, but in the event of severe rain the week of the event, cars will park at and people shuttle from the Kenosha County Center (Highways 50 & 45), Westosha Central High School and Brighton Grade School.
Kenosha County Executive Jim Kreuser is organizing the DairyAir Dairy Breakfast bike ride to the dairy breakfast. More information on that event is available here.