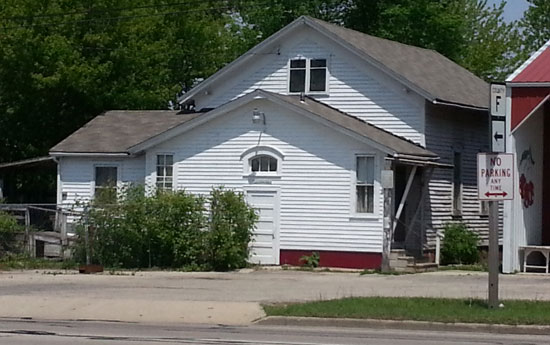 The Paddock Lake Village Board has turned down an offer to donate to the village an old schoolhouse building at Brass Ball Corners (Highway 50 and Highways 83/75).
The board decided the estimated $172,000 cost of relocating the schoolhouse (known as Brass Ball School), buying property on which it would sit and other related costs was too steep, despite the historical preservation aspect, said village administrator Tim Popanda.
In 2009, village resident Conio Lehnert, owner of Brass Ball Fruit Stand and the adjacent Salem School District No.3 School house offered to the village by donation the cira 1860 wood frame school building, Popanda explained. Lehnert proposed that when he sold his property he would offer the village a first right of refusal, if the perspective buyer revealed that the school house would be removed  or demolished. On May 4, village staff were informed that an offer to purchase has been submitted, and that the buyer wishes to honor the informal agreement between the village and  Lehnert. The unnamed buyer requested that the village enter into an agreement that would guarantee removal of the structure within 12 months. The agreement would also require the village to remove the structure's foundation and restore the site to a dust free condition.
Popanda said the plan had been to move the building to the southeast corner of the the Highway 50 and Highway 83 intersection. That property houses a historical marker about Brass Ball Corners and is owned by the state Department of Transportation. The village would have to buy the property from the state to make the move.
The building would not likely be eligible for any kind of historical preservation grants because it has been renovated into a residence, Popanda said. The building also needs substantial repairs to be habitable.
Though the board rejected the donation of the whole building due to the cost, Popanda said he is hoping to arrange an opportunity to salvage some parts of the building that could be interesting for historical display.