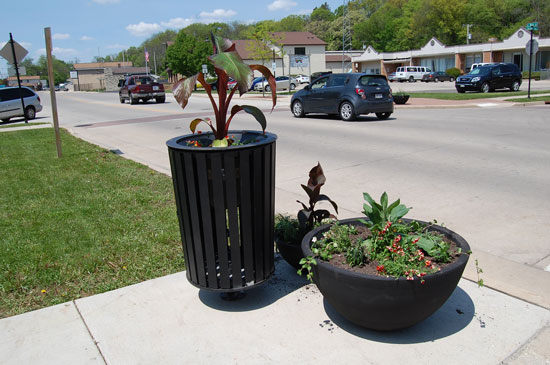 A group of volunteers took advantage of nice planting weather Thursday to make downtown Twin Lakes a little more green — and many other colors found in flowers.
The volunteers planted pots along Main Street. Employees from Keller Williams were on site volunteering as part of their "Red Day"- a day devoted to volunteering in the community. Another partner in the project, Allied Plastics, also sent employees to assist in the planting.
Twin Lakes resident Karla Lennon approached the village earlier this year wishing to head an initiative to put flowering plants along Main Street in the downtown area. The idea took off and gained much support from community members and businesses including Creative Edge Landscapes, Allied Plastics, Keller Williams, Vozel Landscaping, and the village.
Creative Edge Landscapes donated all of the flowers for the pots. Allied Plastics donated 40 bags of planting soil while the village donated available top soil to fill the planters. Vozel Landscaping has agreed to water and maintain the plants throughout the year.  Twin Lakes Charity (a branch of the Twin Lakes Area Chamber and Business Association) has been involved to accept tax-deductible donations. The village, contributions from miscellaneous donors and a $1,000 donation from an anonymous donor purchased the planters for the downtown project.
The May 19 planting included filling nine 34" by 17" planters, five 20" by 10" planters, and two re-purposed decorative garbage cans made into planters by Public Works.
The Main Street Flowers group hopes to purchase more planters as more donations roll in or in future years to help develop the program.
Twin Lakes Subway supplied free sandwiches to the volunteers working on May 19.
"This has truly been a group effort," says village administrator Jennifer Frederick. "It has been great to see so many local businesses and residents getting involved to help beautify our downtown. We hope this is only the beginning."