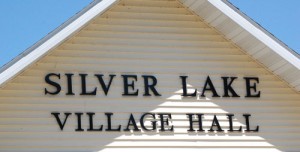 The Silver Lake Village Board has reduced Village Hall hours starting Monday.
The new hours will be 9 a.m. to 2 p.m. Monday through Friday. Clerk/Treasurer Vicki Galich said she also will be willing to conduct village business by appointment outside of those regular hours.
President Bruce Nopenz said the change was to allow the reduced staff in the office to staff the office during public hours and get work done without interruptions.
"Right now we're under pressure with really only one person in the office," Nopenz said.
Nopenz said he has long questioned why the office needed to be open to the public 40 hours a week, given the size of the village.
Reducing hours seemed to be supported by most of the board members who spoke, but resident Bruce Francart in the audience sounded critical of the move.
"You're cutting off village hall to the working public," Francart said. "If nobody comes in, why do you need shorter hours?"
But Galich said she felt with the flexibility of scheduling appointments and better utilization of the drop box for payments that good public service could be delivered with the shorter hours.
"I think we can manage shorter hours and still serve the public," Nopenz said.
Extending hours for periods like when tax payments are due and absentee voting — maybe even on Saturdays — were discussed. (Note: This paragraph added to original version of story — DH)
The change in hours was approved unanimously.