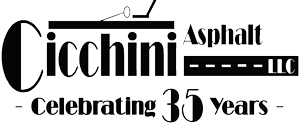 Note: Cicchini Asphalt is westoftheicom sponsor. This is a paid announcement. — DH
If you are looking to have some paving work done this year, Cicchini Asphalt  is your full-service residential, commercial, industrial, and municipal asphalt paving and maintenance contractor.
Serving Kenosha and Racine counties for more than 30 years, Cicchini Asphalt has been synonymous with quality and durability.  Their years of experience in the Wisconsin area have given them the knowledge and understanding of the unique climate conditions.  These climate conditions are an important consideration when repairing, maintaining, or reconstructing an existing asphalt pavement or installing new bituminous asphalt pavement.
At Cicchini Asphalt, they understand that no two projects are alike and that every single project, whether big or small, requires thorough attention to detail.  As a potential customer, you can take comfort in the fact that Cicchini is fully insured, bonded, prequalified and experienced in providing asphalt services to local residents, businesses, cities, towns and school districts.  Cicchini believes that it is important that you know that they take pride in their work.  It is their goal to deliver the best product in Kenosha and Racine and to satisfy every single customer that they deal with, whether they are residential, commercial, industrial or municipal.
Cicchini's management staff has over 70 years of combined experience in the paving industry.  The majority of their employees in the field have been with the company for more than 10 years.  It is this experience, knowledge, and stability within Cicchini Asphalt  that allows them to run efficiently to better serve their customers.  Cicchini's in-house engineer has the ability to completely design and engineer a project to meet and exceed any of your needs.
Contact Cicchini Asphalt at 262-654-1929 or click here for an estimate.