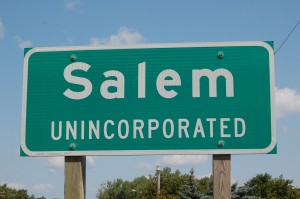 The Salem Town Board has  upheld its opposition to a roundabout at the Highway C and Highway 83 intersection.
A motion to rescind a resolution passed by the board in November 2015 opposing the roundabout failed Monday by a 2-3 vote. Chairman Diann Tesar and Supervisor Dennis Faber voted in favor of rescinding and Supervisors Dan Campion, Ted Kmiec and Mike Culat voted against rescinding.
The action should effectively kill the state's proposed roundabout at Highways 83 and C. Federal funds were approved to build the project, but state officials have said they will not pursue the project with local municipal opposition in place.
According to data presented by WisDOT, there were 32 crashes at the intersection between 2010 and 2014. Some 31 percent of those crashes were classified as involving an injury. There were no fatalities in that period. In 2013, the intersection ranked in the top 5 percent of most dangerous intersections in Wisconsin. A roundabout would fix alignment and visibility issues at the intersection, WisDOT officials said. By moving from a traffic signal controlled intersection to a roundabout the chance for high speed, t-bone, right angle crashes is virtually eliminated and conflict points reduced from 32 to 8.
Yet opposition to the roundabout proved persistent.
Before the item was considered by the board, five citizens addressed the board regarding the roundabout. One said they supported the roundabout and four said they opposed it. One of those opposed said she spoke with a Bristol official who said a roundabout at Highway C and MB had reduced severity of crashes there, but she still opposed a roundabout at Highway C and 83.
Each board member also summarized their position on the issue before the vote:
Campion repeated his opposition to the roundabout. He said he is unsatisfied with the state's data, which he suggested was given to the town "piecemeal." He acknowledged that roundabouts are a good idea in some places, but not at Highway 83 and Highway C, but he did not specify why.
Kmiec largely echoed Campion's points, especially that the data was flawed. "I've been against it from the get go," Kmiec said. He lamented that the state was willing to spend $3 million on the roundabout, but the town struggles to find money to pave roads. State officials have said money that would have gone for the roundabout could not be transferred to paving town roads.
Culat said he found a lot of opposition to the roundabout in the community and among truck drivers he polled. "I don't see it as so bad of an intersection," Culat said. "Nobody wants it; nobody is in favor of it."
Faber pointed out that public sentiment at the first state sponsored public information meeting was pro-roundabout and that he has favored the roundabout from the start. "I think safety has always been number one in my mind," Faber said.
Tesar, in her comments, pushed back against the idea presented by Campion and Kmiec that the state's data did not present an accurate picture. "I don't think the results were skewed," Tesar said. "I don't think they (WisDOT) falsified anything." She went on to say that she trusted WisDOT expertise in this area. If anyone gets in a major accident at the intersection she will feel terrible, she concluded.