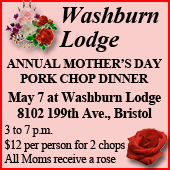 Note: Washburn Lodge is advertising this event at westofthei.com. This is a paid announcement. — DH
Washburn Lodge will host its annual Mother's Day Pork Chop Dinner on Saturday, May 7 from 3 to 7 p.m.
Come treat mom to a wonderful dinner.
$12 per person for two chops. All moms receive a rose.
Washburn Lodge is located at 8102 199th Ave., Bristol.