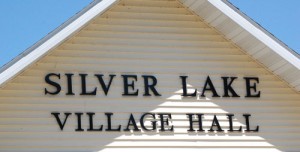 A plan authorizing the preparation of a  cooperative plan between Salem and Silver Lake was passed unanimously by the Silver Lake Village Board at a special meeting Thursday night.
A similar resolution was passed by Salem Town Board at a special meeting Monday.
Part of the plan is expected to be a boundary agreement that would merge the town of Salem and the village of Silver Lake as a single village.
Silver Lake village President Bruce Nopenz, speaking during discussion of the motion Thursday, laid out an aggressive timeline for at least the initial stages of the process.
The plan is expected to be completed by June, with a joint meeting with both boards taking place on July 6 to ask and answer questions, Nopenz said.
State statutes require all municipalities and school districts within five miles to be notified of the plan process. Nopenz estimated that to be 40 entities.
"There's a lot of work between now and then and there's a lot of work after that," Nopenz said.
Nopenz and other board members also expressed optimism about the results of a merger of Salem and Silver Lake.
"If this comes to fruition this will be a very large municipality in Kenosha County," Nopenz said. "In the long run this is going to be I think a very good thing …"
Trustee Doug Randolph said "There's nothing really we're giving up. We're just growing larger."
Trustee Dan Withers, who pointed out the municipal tax rate for Salem is much lower than Silver Lake, said "I would assume this will be a win for the people of Silver Lake. The service will improve and the cost will go down."
After the meeting, Salem resident Michael Ullstrup, who was in attendance at the meeting, said Salem's citizens committee that explored options for Salem incorporating as a village last year, will be reactivated as part of the process. The committee will assist in informing the Salem residents about the plan and the process, he said.
A boundary agreement with a village was cited by the Salem citizen committee that studied incorporation models as the most streamlined of all of the possible ways the town of Salem could incorporate as a village. It would not require a referendum, though an advisory referendum could be held or forced by a petition of a sufficient number of residents.
Another advantage of incorporation via boundary agreement would be the inclusion of all of the town in the new village. A traditional incorporation requires compact area and typically farmland and less dense areas are not allowed to be part of the incorporation. Salem town Chairman Diann Tesar has said she would not be in favor of an incorporation that cannot include the whole town.
A traditional incorporation effort also would likely be more expensive, town officials have said.
Incorporation has been an on again, off again goal for Salem through recent years. Villages have powers over self determination and driving economic development not available to towns. The also have secure boundaries as land inside a village cannot be annexed into neighboring municipalities.
Silver Lake and Salem have been sharing more services over the last year. Silver Lake contracted with Salem for fire and rescue services, dissolving its own fire department. In recent weeks, Salem assisted Silver Lake with some public works projects.
A boundary agreement driven consolidation of Salem and Silver Lake would also satisfy an element within Silver Lake that has been seeking to unite with Salem. A effort to dissolve the village and become part of Salem — spearheaded by now village President Nopenz — failed in 2014 when a referendum gained an insufficient majority of Silver Lake voters.
The area now consisting of the village of Silver Lake was part of Salem before the village incorporated in 1926.
"It probably should have never been split apart," Nopenz said at Thursday's meeting.
Salem has a population of over 12,000. Silver Lake's population is about 2,400.
Related posts
No discussion of joint plan with Salem at Silver Lake Village Board committee meeting; on agenda for action Thursday night
Salem approves resolution to explore cooperative plan with Silver Lake