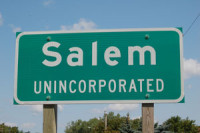 Note: This story has been edited from its original version to more accurately reflect the language in the resolution. — DH
The Salem Town Board on Monday took the first step in a process that ultimately could make Salem and Silver Lake one municipality again, bringing village status to Salem in the process.
The board unanimously approved a resolution authorizing the exploration of a cooperative plan with the village of Silver Lake. All Salem Town Board members were present. There was little discussion of the item at a special meeting that started at 5 p.m. at Town Hall.
Town administrator Patrick Casey, before the vote, said the resolution authorized the beginning of discussion about a boundary agreement with Silver Lake.
But after the meeting, town Chairman Diann Tesar acknowledged that this is the start of looking at a possible agreement that could effectively merge Salem and Silver Lake into a single municipality.
Silver Lake Trustee Patrick Dunn, who was in the audience, also said his understanding is that the goal of the process will be to merge the two municipalities.
The Silver Lake Village Board will also consider the resolution, perhaps as early as Wednesday, when it is scheduled to hold a Committee of the Whole meeting, Dunn said.
A boundary agreement with a village was cited by a Salem citizen committee that studied incorporation models last year as the most streamlined of all of the possible ways Salem could incorporate as a village. It would not require a referendum, though an advisory referendum could be held or forced by a petition of a sufficient number of residents. Michael Ullstrup, the chairman of that committee, speaking at a meeting last summer, called a boundary agreement the "wild west" of incorporation methods because anything the two municipalities agreed to could in theory be included in the agreement, such as the two municipalities becoming one and the new municipality being a village.
Another advantage of incorporation via boundary agreement would be the inclusion of all of the town in the new village. A traditional incorporation requires compact area and typically farmland and less dense areas are not allowed to be part of the incorporation. Tesar has said she would not be in favor of an incorporation that cannot include the whole town.
Incorporation has been an on again, off again goal for Salem through recent years. Villages have powers over self determination and driving economic development not available to towns. The also have secure boundaries as land inside a village cannot be annexed into neighboring municipalities.
Silver Lake and Salem have been sharing more services over the last year. Silver Lake contracted with Salem for fire and rescue services, dissolving its own fire department. In recent weeks, Salem assisted Silver Lake with some public works projects.
A boundary agreement driven consolidation of Salem and Silver Lake would also satisfy an element within Silver Lake that has been seeking to unite with Salem. A effort to dissolve the village and become part of Salem failed in 2014 when a referendum gained an insufficient majority of Silver Lake voters. Two leaders of that effort, Bruce Francart and former village president Jeff Albrecht, also were in the audience at Monday's special meeting.
The area now consisting of the village of Silver Lake was part of Salem before the village incorporated in 1926.
Salem has a population of over 12,000. Silver Lake's population is about 2,400.
Salem and Paddock Lake have a boundary agreement in effect through 2027. That agreement does not combine the municipalities, but defines growth areas for Paddock Lake.