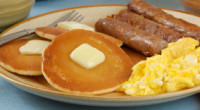 Cub Scout Pack and Boy Scout Troop 385 of Bristol will hold a Pancake Breakfast and Silent Auction at Bristol Grade School located at 20121 83rd Street in Bristol, on Saturday, May 7 from 7 a.m. to noon.
The breakfast will include pancakes, scrambled eggs, sausage and beverages. Tickets are available at the door: $6 for adults, $3 for children (5 to 13 years) while children 4 and under eat for free. A silent auction will take place at the event from 7 to 11 a.m. Items available for bid include gift certificates from area businesses, sporting event tickets, sports memorabilia and gift baskets. Opportunities to win a large handmade quilt will also be offered.  All proceeds from the event will benefit Cub Scout Pack and Boy Scout Troop 385.
Troop 385 continues to participate in the Adopt-A-Highway Program and is responsible for litter pick up along a stretch of Highway 45 in Bristol. In the past year, two members of the Troop each completed a community service project, as well as additional requirements, to earn the highest rank of Eagle Scout. Each Pack and Troop is self-funded. This annual event helps ensure that all boys can continue to experience the many benefits of Scouting.  The Pack and Troop include students from Brighton, Bristol, Paris and Providence Catholic Schools as well as Central High School.