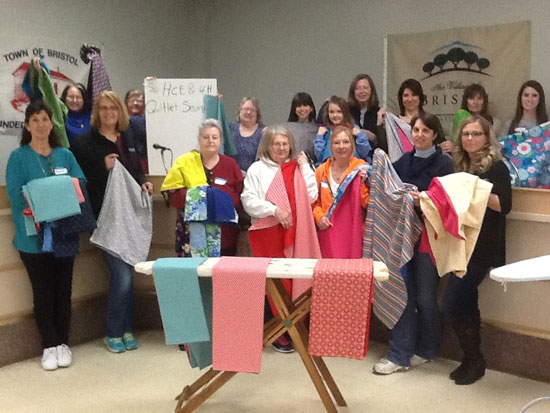 Members of Slades Corners Lucky Clovers and Salem Pioneers 4-H Clubs recently joined members of Kenosha County Association for Home and Community Education at Bristol Village Hall to work on a community service project.  Over 200 yards of lightweight fabric in coordinated, bright colors were donated and purchased with donated funds for the purpose of sewing small and medium size comfort quilts or "quiltlets".
The 19 volunteers, made up of grade school students through retirees, spent their time cutting and assembling comfort quilts for patients in medical centers in Nicaragua. The quiltlets were made in a variety of sizes and will ultimately be distributed to children, from toddler to teens, hospitalized in Nicaragua. To-date over 70 quiltlets have been made.
This project is organized by the Wisconsin/Nicaragua Partners of the Americas which began in a bilateral partnership that promotes multicultural understanding, cultivates lasting friendships, sponsors community based training programs, provides people-to-people activities and maintains a non-partisan stance. (www.wisnic.org)  The KCAHCE members support the efforts of the partnership.  To find out more about HCE in Kenosha County, contact Regina LaForge at 262-577-1920.