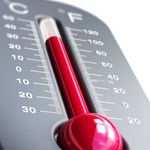 The local National Weather Service forecast says don't expect Thursday's high temperature to get out of the mid 40s Thursday.
And looking further ahead, we shouldn't expect to see 60s again until Monday.
Thursday's forecast low is 39. Maybe not a threat of a frost, but cold enough for late April.
The NWS is forecasting a high of 60 on Monday, on Tuesday 66 and Wednesday 64.