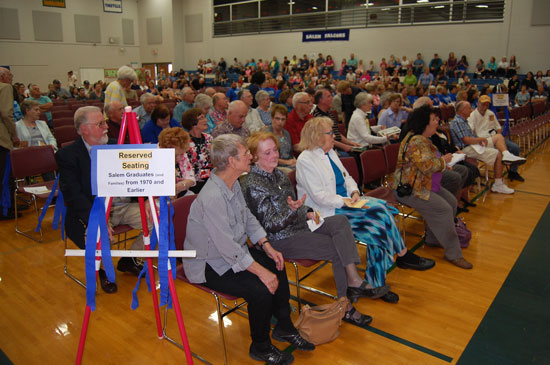 Past and present students, staff and community members in general celebrated 100 years of Salem School on Sunday afternoon.
There has been a school on the Highway 83 and Highway AH site since 1916.
Sunday's celebration started out with a presentation that included recognizing students and staff from the past. Arlene Schmidt Runkel, Class of 1958, and Walter Wonoski, a teacher at the school from 1972-2008, talked about some of their memories of their time at Salem School. Here is video of their remarks:
After the initial presentation, attendees were free to look around the building at displays of history through the decades assembled by students.
The south cafeteria was transformed into a museum of local and school history. Features included a memory wall, displays of old books and yearbooks and a wall where people could share their memories of the school.
In the intermediate gym, there were toys from the 1910s through the 2000s.
The middle school library had a display of seemingly ancient technology that many adults could still remember as cutting edge.
Visitors could walk through some of the oldest parts of the school in the southeast portion of the building, some of which are not generally accessible to the public or students any more.
Attendees were able to have a root beer float and a hot dog  in the cafeteria — just like you might have purchased years ago at Dibble's Store in Salem and Paddock Lake. A saxophone quartet that included Salem band director Tom Gard performed there too. Here some video of them:
As the annual school celebration traditionally does, the 100th anniversary celebration concluded with a staff performance in the middle school gym. Staff performed dance moves from the decades. Here is video of that finale:
Here are some more photos: