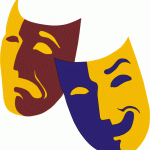 Westosha Central High School will be offering a spring production of Kill Me, Deadly – a murder mystery comedy thriller directed by Michael Klimzak.
In this production, the main character, Charlie Nickels, has a hard life as a detective working in the seedy underbelly of Los Angeles, and things are only made harder by the murder of a client and the theft of her 300 karat diamond. With the help of his wise-cracking secretary, Ida, Charlie seeks out the many suspects: bookworm Clive, equestrian beauty Veronica, snooty butler Wilson, sensitive muscle Louie, and mob boss Bugsy Siegel. At the center of the case is femme fatale Mona, a nightclub singer who captures Charlie's affections…and suspicions. Packed with romance, intrigue, and murder, this detective mystery is a fun parody that will keep audiences guessing until the end.
This show is best enjoyed by audience members 13 years and older.  Show Dates: Friday, April 22, at 7 p.m., Saturday, April 23, at 7 p.m and Sunday, April 24, 2 p.m. All tickets are $8.