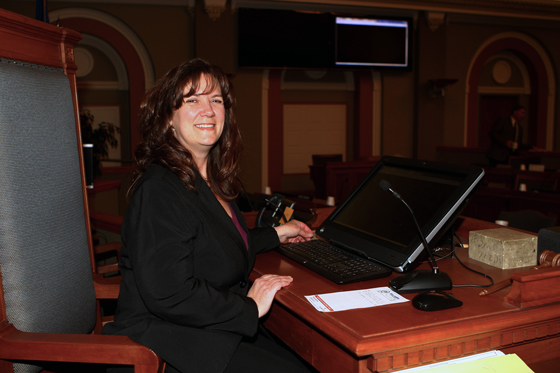 Tuesday night, by unanimous vote, the County Board elected their first female Chairwoman. Kim Breunig, who represents District 21, which includes parts of Salem, Twin Lakes, Randall, and some of Wheatland, had been serving as Vice Chair, and has been a Supervisor for 10 years.
Breunig has served on the Finance committees and Chaired Planning and Development for four years.
Bruenig was nominated by Supervisor Dennis Elverman, "I'm channeling two of the finest supervisors I'v ever worked with, here on the county board Ann Bergo and Eunice Boyer, either of which would have been a spectacular county board chairman, so tonight in honor of them, I'm going to nominate, who will be our first female county board chairman, in Kenosha county history, Kim Breunig."
Ten years ago yesterday she stepped onto this very floor as a newly elected county board Supervisor. Ten years ago would have never thought she would be the first chairwoman of Kenosha County.
"It is my commitment to you as Chairwoman that we will promote a culture of unity. We will set aside personal and political agendas and put the County first."
She announced Kenosha County First Initiative, putting forth an agenda of mental health and forward growth.
The County Board Supervisors were sworn in and Supervisor Daniel Esposito was elected Vice Chairman.
Bruenig was just confirmed as the winner of her seat after a recount Monday. She defeated challenger Mark Nordigan by four votes.
Full video can be seen on the Kenosha County website.