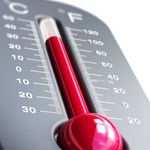 It's foggy out there this morning, but the National Weather Service says it should be pretty much gone by 9 a.m.
Then we can get on with a little warm spell in the local NWS forecast.
Today's high temperature should reach 56. Wednesday should reach 58 and Thursday 55.
There's no rain in the forecast for Tuesday, but there will be an increasing chance of rain Wednesday, peaking Wednesday night and then tapering off Thursday and ending before Thursday night.