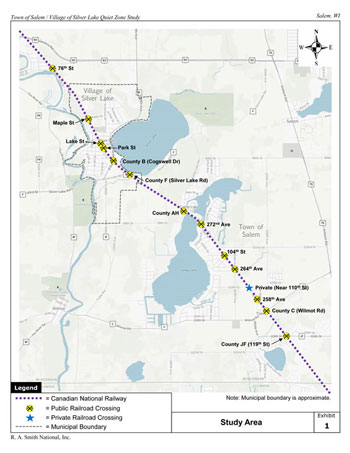 One of the more persistent issues that has faced the Salem Town Board over the years is how to silence train horns through the town.
While there's been a lot of discussion, reliable facts were not always available.
But the town now has a study that supplies some hard numbers — including cost — to upgrade the 14 crossings in Salem and Silver Lake to a standard that could allow the Salem to establish a zone where trains passing through would not have to blow their horns while approaching crossings.
A draft of the study was presented and discussed by the Salem Town Board at a committee of the whole meeting on Monday. The study was done by R.A. Smith National.
Town administrator Patrick Casey said the study says the best way to be sure of establishing a qualified quiet zone would be to add supplemental safety measures to all crossings within the study area. All of the public crossings already have gates, lights and constant warning time train detection.
The two most feasible supplemental safety measures are non-traversable median channelization and four-quadrant gate systems. Channelization is the preferred and less expensive option, but some of the roads in the study are are not wide enough and therefore four-gates would have to be used. Both of these systems seek to prevent motorists from driving around down gates.
The study says adding supplemental safety measures to all of the Salem crossings would cost $2 million and all of the Silver Lake crossings $1.3 million.
There would be two ways to pay for the improvements, borrowing money and then having all property taxpayers pay it back or a special assessment targeting properties most impacted by train horns, Casey said.
Establishing a special assessment area of all properties within .25 mile of the Canadian National railroad line would cost 941 Salem parcels owners $2,125 each. The same zone in Silver Lake would cost 681 parcel owners $1,909 each.
After some discussion about what would be the best way to fund such a project, Supervisor Dan Campion suggested holding a public meeting to gauge public interest in pursuing the project. A consensus around that idea developed.
Casey suggested that the meeting be held after June and that it be publicized generally and with a specific letter to property owners close to the tracks. He suggested modeling it on meetings held recently in the town by American Transmission Co. as they were seeking to gain support for a new high voltage transmission line through the town. Those meetings figured large maps and illustrations of the route and people to answer questions.