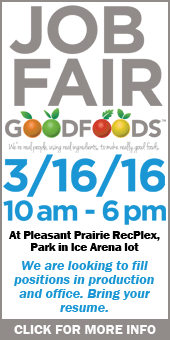 Note: Good Foods is a westofthei.com sponsor. This is a paid announcement.  — DH
Good Foods is holding a Job Fair on Wednesday, March 16, from 10 a.m. to 6 p.m., at the Pleasant Prairie RecPlex, 9900 Terwall Terrace, Pleasant Prairie.
Park in the Ice Arena parking lot on the north side of the building.
Bring your resume if you have one.
We are holding this Job Fair because Good Foods Group is experiencing tremendous growth!
Good Foods is located in Pleasant Prairie near the RecPlex and is less than twenty minutes from Westosha Central High School. We are closer than you think (less than 3 miles east of I-94 off of 165 and less than 3 miles south of Hwy. 50 on Hwy H).
Our Team Members create delicious and all natural guacamole, salads, dips, and fresh pressed juices in our state of the art factory. We are an innovative food company that does not use heat or chemicals to preserve our products. Instead we use High Pressure Processing (HPP). The Good Foods brand is sold in over 6,000 retail outlets throughout the US and Canada including Costco, Walmart and Target.
Good Foods offers a competitive wage and benefits package. More information about Good Foods is available here.
Good Foods is currently seeking Team Members to fill these positions: Entry level Laborers, skilled Machine Operators, Quality and Maintenance. All production positions work in our clean, COLD facility. Our manufacturing areas are kept at a temperature of 37 degrees to keep our ingredients fresh. You'll want to dress in warm layers all year round.
We welcome Spanish speaking Team Members in our entry level positions as our production leaders are bi-lingual.
In the office, we are seeking to fill these positions: Controller, Consumer Affairs Specialist and QA.
These are direct hire positions in a drug free work environment. Good Foods is an equal opportunity employer: Minorities, Women, Veterans, Disabilities.
If you are unable to attend the Job Fair,
Apply via email: careers@goodfoods.com
Apply in person to: Good Foods Group, 10100 88th Avenue, Pleasant Prairie, WI 53158
Monday through Friday 8 a.m. to 4 p.m.