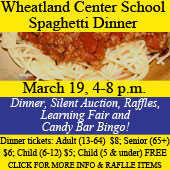 Note: This event is being advertised with westofthei.com. This is a paid announcement. — DH
Wheatland Center School's  29th Annual Spaghetti Dinner and Silent Auction will take place Saturday, March 19, from 4 to 8 p.m.
The event will include: Spaghetti Dinner (served from 4 to 7 p.m.), silent auction, raffles, Learning Fair and Candy Bar Bingo.
Dinner Tickets at the door are: Adult (13-64), $8;  Senior (65+), $6; Child (6-12), $5; Child (5 & under), free.
Candy Bar Bingo will take place from 5 to 7 p.m. $1 /card or a candy bar.
Items that will be available for bid in the silent auction include: rounds of golf, Wilmot Mountain, tubing, oil changes, Green Bay Packers football, wine tastings, crabapple tree, dinner certificates, Mt. Olympus Water Park, massage certificates, camping getaway and tickets to Beloit Snappers, Milwaukee Admirals, Milwaukee Bucks, local fairs and much more.