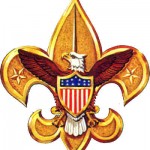 Boy Scout Troop 329 is hosting our annual pancake breakfast at Holy Cross Church in Wilmot (corner of Highways C and B) on March 13 from 7:30 a.m. to noon. Cost is $5 for adults, $4  for children 5 to 11 & under 4 years old are free.
The breakfast includes includes pancakes, eggs, sausage, juice, milk or coffee. Featured pancakes include regular, blueberry, raspberry, strawberry, pineapple and chocolate chip. Combine that with a flavored syrups including regular and lite syrup, butter pecan, cinnamon roll, blackberry, red raspberry and strawberry.
While you're at the breakfast enter for your chance to win a raffle for a  55" flat screen HDTV or a new Xbox One Game Console and Games Package or bid on one of numerous silent auction items.