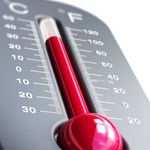 The National Weather Service forecast for this area looks pleasantly warm for the next week.
Probably the only thing that could make it a little less pleasant — depending on your plans — is the persistent chance of rain.
Tuesday's high could reach 65 and the highs for the next seven days should be in the 50s. Technically, Friday's forecast says 49 for a high, but let's not get picky.
There's a chance of rain in the forecast for every day and night, with Friday again being the exception. Most of those chances of rain are in the 40-60 percent range. The most likely periods of rain are Tuesday night (70 percent chance) and Wednesday night (90 percent chance), when we may .5 to .75 inches of rain.