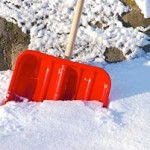 The forecast for significant inches of snow overnight really under performed.
We measured about 1 inch of snow on the ground at westofthei.com headquarters from the start of snowfall at about 8:30 p.m., Monday to about 5:15 a.m. Tuesday morning.
The winter storm warning has been cancelled and replaced with a winter weather advisory, in effect until 2 p.m. Though the total snow fall was less than expected, winds could still cause drifting and travel may still be hazardous in spots.
Instead of heavy overnight snow, however, the forecast now includes an 80 percent chance of snow during the day Tuesday. That snow is most likely to fall between 9 a.m. and noon. Accumulation of 1 to 2 inches is possible.
All you juniors looking for a reprieve on taking the ACT test today, you're out of luck as it looks like local schools are open.
The snow that did fall overnight is heavy, for your snow removal planning purposes.
UPDATE 9:28 a.m. — Snowing again in Paddock Lake.
UPDATE 11:18 a.m. — Snow significantly heavier now.